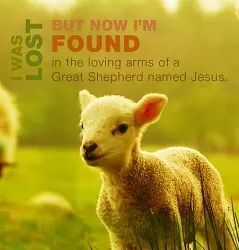 September 10, 2023
"What About the 99?"
Text: Matthew 18:1-20
Grace, mercy, and peace be to you from God our Father and from our Lord and Savior, Jesus Christ.
            The Parable of the Lost Sheep is found here in Matthew 18, but also in Luke 15, where we also find the Lost Coin and the Lost Son (or Prodigal Son). In a slightly different form, we find the same message in John 10 when Jesus explicitly states that He is the Good Shepherd, and as Paul says in Philippians, the One, "who though he was in the form of God, did not count equality with God a thing to be grasped, but emptied himself, by taking the form of a servant, being born in the likeness of men. And being found in human form, he humbled himself by becoming obedient to the point of death, even death on a cross." Each of these accounts reminds us that Jesus cares for the least. The lowliest. The little ones. Even those who have wandered away. Matthew's introduction to the parable recalls Jessus' words to, "See that you do not despise one of these little ones. For I tell you that in heaven their angels always see the face of my Father who is in heaven. For the Son of Man came to save the lost."
Just as Jesus used a little child as an object lesson when He said, "unless you become like children, you will never enter the kingdom of heaven," He isn't only talking about those who are of a certain age. As children of God, each and every one of us is called to have the faith of a child. Humble and willing to receive the gifts He's given to us. But like children, we too can very easily go astray. Which is why we constantly need the reminder that Jesus will always seek us out when we stray and will rejoice with the whole multitude of heaven when His lost sheep are found. This is an unmistakably true and powerful message that we can always take when we hear of His great care for that one lost sheep. Who He'll do anything to find and bring back to the fold.
But what about the 99? In Matthew, Jesus leaves the 99 on the mountains to go in search of the one that went astray. In Luke, He leaves them in the open country and goes after the one that is lost until He finds it. It's such a reckless love. A reckless love because it would give anything and everything to find just the one. The lyrics to a recent Christian song praise this kind of love that God shows to His people through Jesus.
Oh, the overwhelming, never-ending reckless love of God
Oh, it chases me down
fights 'til I'm found
leaves the ninety-nine.
I didn't earn it and I don't deserve it
Still You give Yourself away
Oh, the overwhelming, never-ending reckless love of God.[1]
          That's exactly the God we want to have. The One who would go to any lengths to track us down. Fight to the bitter end on the cross to save each of us. Who cares so deeply that He would leave every other sheep He has to come and return us His sheepfold. But where's the care and concern for the 99 who are left behind?
Just a couple weeks ago I had the joy of taking 9 kids, ages 15 down to 1 to the bowling alley. One of the kids had friends in town so it swelled our group a little and on this particular day I was on my own. Outnumbered 9-1. My first mistake was thinking that I'd also be able to bowl and still maintain order, and return with the correct number of kids. About halfway through our game I turned around after taking my turn and couldn't see the 1-year-old anywhere. If you've ever had that experience as a parent, you know that in that fraction of a second your heart is lifted into your throat and all the worst possible scenarios fly through your mind all at once. It couldn't have been more than 5 seconds and I spotted him halfway across the bowling alley tearing off after something that had caught his eye. Without thought for anything else I ran after him, scooped him up and began to return to the rest of the group. As I was walking, my camp counselor instincts kicked in and I began to count heads. 1-2-3-4-5-6-7-8. 1-2-3-4-5-6-7-8…And then I realized that the 5-year-old was nowhere to be seen. In my haste to find the one I lost sight of the rest and didn't account for their safety while I went off to get the one who had strayed. The second lost sheep was also quickly located and we resumed the rest of our game without further incident, but with a little closer eye on everyone.
Lucky for us, Jesus never loses sight of any of us. He always has a plan. His plan of reckless love includes pursuing the single lost sheep while leaving the 99 in the open field or on the mountains. He cares so deeply that I can imagine He has that heart in the throat feeling every single time He watches one of His sheep stray. Which is why He responds the way He does. But His plan also includes great provision for the 99 who are left behind. We don't get the sense in the Matthew or Luke readings, but the way in which the parable is phrased assumes that seeking the lost sheep is what the shepherd would do. And the only way the shepherd would do that is if he was fully assured of the safety of those he was leaving behind. One commentator has suggested that the way the shepherd first learned of the single sheep's absence was because he was counting as he led the flock into the safety of their sheep pen. This may well be the case, but there's also the possibility that a shepherd with a flock this large would have had an additional shepherd assisting him.
Either of these possibilities can be directly compared to the way God cares for His flock today. Since Jesus cares equally for every one of His sheep, He is always providing for the safety of His most precious charges. Christ's bride, the church, is the sheep pen by which He provides the safe place for all of us to reside. John's account of the Good Shepherd reminds us of the security that this enclosure provides. It's a place that we are free to come and go from and find pasture. It's where His Word and Sacrament feed and nourish. It's where ultimate safety from the one who would steal and kill and destroy is found. And in His church, He provides the under shepherds who take on the daily task of watching over those entrusted to our care. This is why those who believe they have security outside the church are fooling themselves with a false sense of safety from all that would lead us astray.
Christ's reckless love accounts for all possibilities and provides for every single one of His sheep. Let us also not be fooled into thinking that we are always one of the 99 either. It's easy within the church to become comfortable thinking that we'd never be the one who strays. But we do every single day. Every day we are the one who the Good Shepherd goes out to find and return to the fold. What a blessing it is to know we have a God who would recklessly search for us each and every time we go astray.
The Luke 15 account of the lost sheep reminds us of this as it's followed up with the account of the Prodigal Son. We tend to focus on the one who left, squandered everything, and then was met on the road by the loving Father who couldn't bear to be away from His son any longer than absolutely necessary. But this account also reminds us of the older son, who stayed and worked and didn't leave his Father's side. He was admonished for not rejoicing at the return of the Lost Son. May we, as Christ's church, also care so deeply for those who are lost, that we would do everything within our power to help Him return as many sheep as possible to the fold. You all know people who have strayed; who are straying right now. Jesus says, "It is not the will of my Father who is in heaven that one of these little ones should perish." It should grieve us deeply, as it does Jesus, that even a single one of His children might remain outside the safety of His infinite love and care and concern.
As much as the Parable of the Lost Sheep is a reminder of the overwhelming, never ending reckless love of God that chases us down, fights 'til we're found, and leaves the 99, let it also be for us a call to action. To act as His church. To not despise the least and the lost, the hurting and the confused. But rather to care for each of the little ones He puts in our path. To share the love of God that will not end until His lost sheep are returned. All the while remembering that it is only by His grace and mercy, His pursuit, and the work of the Holy Spirit that even one would be returned. And to always rejoice over every lost sheep that is brought back into the fold. Because we are those sheep, redeemed by the precious blood of Christ. And we will always be guarded and kept by the Good Shepherd who refuses to let us go. Amen.
The peace of God which surpasses all understanding guard your hearts and your minds in Christ Jesus.
1 Asbury, Cory. Reckless Love. (2018).