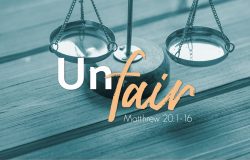 September 24, 2023
Unfairly Gracious
Text: Matthew 20:1-16
Grace, mercy, and peace be to you from God our Father and from our Lord and Savior, Jesus Christ.
          It's only natural for us to compare ourselves to others. We pull into the parking lot at Walmart and compare the car we're driving to the others that are parked there. We look across the street and compare the neighbor's house to our own. Kids compare their video game systems and how many games they own. We sit in the breakroom at work and wonder how our paycheck stacks up to the others doing our same job. In school, it was common to watch the reactions of the whole class when the teacher passed back the tests we'd taken. Once we saw our own score, we could tell by the reactions of everyone else whether we'd done well or poorly in comparison with the rest of the class. And once we start comparing, we're going to realize that there are times when life just isn't fair.
You don't have to teach humans to notice when things aren't fair. It comes naturally to us. The toddler instinctively notices that his snack is smaller than his sister's. We notice when we receive less playing time than someone we think isn't as good as we are. We can't ignore the discrepancy in pay between two people doing the same job. It seems we're hard-wired with an acute sense of fairness. Especially when we're on the short side of the scale, we notice when things aren't equal. Whenever we play the comparison game it's important to understand the standard to which we're comparing ourselves and others. Is it the world's standard, or is it God's?
In the Gospel readings for these past two weeks, we've seen examples of God's unfairness. Yes, you heard that correctly. I said, "God is unfair." He forgave a servant an immeasurable debt simply because he fell on his knees and implored Him. And He pays all His laborers the same wage for working vastly different numbers of hours. God's standard is different than ours. His thinking and human thinking are quite different. Remember when Jesus rebuked Pater for attempting to get in the way of what He needed to be doing? Jesus tells him, "You're not setting your mind on the things of God, but on the things of man." But Peter's not the first, not will he be the last, to have this problem. In this week's Old Testament reading, we're reminded, "For my thoughts are not your thoughts, neither are your ways my ways, declares the Lord." We don't understand the Lord's ways, because we're not the Lord. He acts unfairly when we look at it in terms of our human understanding. But His unfairness always leans in our favor.
GOD IS NOT UNFAIRLY HARSH, BUT UNFAILY GRACIOUS
          As we look at this parable, we have a straightforward account of a situation that's easy for us to understand and where we think we know what the outcome is going to be. Workers go out into the field, called at different times by the master. The first group is the only one who knows what they'll be paid at the end of the day. These are the laborers who were up at the crack of dawn and out at the city gate before the master comes out searching for that day's workers. These are the guys who know they need that denarius they're promised so that their family will eat the following day. For the most part that's how it worked with these sorts of laborers. Today's wage would put the food on the table for tomorrow. Meaning that they did this day after day, knowing the reward, and returning to ensure they'd receive it again the next day. It might seem like an unexciting existence, but there's great security and assurance in knowing where that next meal is coming from.
For those of us who have been working in the Master's vineyard our entire lives; there's great security in the knowledge that our reward has been secured. We faithfully follow, eagerly serve, and patiently wait, knowing that with each day and month and year that passes we're graciously kept within the safety of the church. Assured of the heavenly reward that's been won for us.
And then there's all the rest. Those who are called at the 3rd hour, and the 6th, and the 9th. Where they were when the master came at the crack of dawn isn't revealed to us, but that's ok. He still needs workers, and it only lightens the load on everyone to have more people out in the fields. They're promised that they'll be paid what's fair. And everyone's happy. The master gets the work he needs done. Those who were ambitious will get a full day's wage. And those who are called later will get a little something as well. You do have to wonder a little bit about those called into the fields at the 11th hour, with only an hour of work left to do. By the time they get to the field and pick up their tools they're not likely to accomplish much before the quitting bells rings and calls them back to settle up with the master. But even they serve a purpose for the master.
"And when evening came, the owner of the vineyard said to his foreman, 'Call the laborers and pay them their wages, beginning with the last, up to the first.'" It's pay day and everyone is getting paid in cash and is ready to head home and enjoy the fruit of their labor. Not many of us gets paid in cash anymore, but there is something to doing an honest day's work and walking away at the end of it with some crisp bills in your hand. I can remember those days, because as a teenager I worked at Kmart. This was the early 90's and I'll never forget that first payday. I had worked that Friday after school, so was able to collect my check after my shift. At least I thought I'd be able to collect my check after my shift. Then I'd have to wait until Saturday morning to go to the bank to cash it. I walked down a hall I hadn't been down before and saw a barred window like you'd see in a movie with a really old bank. There was a sign by the window that listed the pay dates, so I assumed I was in the right place. I told the man behind the counter my name and he handed me an envelope. My first impression was that it was much heavier than I expected. And then I heard the jingling. I didn't want to open it there, so I went outside and while waiting for my ride opened the envelope and realized that I'd been paid in cash. There was a check stub, but no check attached. It listed my gross pay, the taxes that had been taken out, and my net pay, and that exact amount had been counted out in bills, quarters, nickels, dimes, and pennies. And that's how I got paid every two weeks for the next year while I worked there. As I look back on the whole thing today, it seems a little sketchy, but I did look forward to that envelope full of cash every two weeks.
And these laborers got to have that feeling every single day. A shiny denarius for their hard work in the heat of the day. Jesus increases the suspense of the parable by having the last paid first. He makes those who were in the fields first wait. And imagine their excitement when those who came at the 11th hour walk past them admiring the shiny denarius they'd been paid for 1/12 of a day's work. The text tells us, "Now when those hired first came, they thought they would receive more…" Why wouldn't they? Fair is fair, right? They were probably thinking they'd hit the jackpot. Doing the math in their heads. We worked 12 times as long as them, so maybe we're getting two weeks' worth of pay all for this one day. "…but each of them also received a denarius."
"For my thoughts are not your thoughts, neither are your ways my ways, declares the Lord." Even so, our human understanding of fairness and justice just can't comprehend how this could be right. Understandably, "On receiving it they grumbled at the master of the house, saying, 'These last worked only one hour, and you have made them equal to us who have borne the burden of the day and the scorching heat." The master's logic in his reply is hard to argue with it. Notice how at the beginning of the parable they were laborers and now the master addresses them as friends. "Friends, I am doing you no wrong, Did you not agree with me for a denarius?…Am I not allowed to do what I choose with what belongs to me? Or do you begrudge my generosity." The word we translate as generosity is simply the word for goodness. It's his money, his prerogative, and his decision. Really what's happening here is the master being unfairly generous, unfairly good, and unfairly gracious.
We're too often like those hired at the first hour, comparing ourselves to those who come later in the day. I've worked harder. My faith is stronger. I've been here the whole time while they were slacking off. Wait a second. That starts to sound an awful lot like the older son in the Prodigal Son who stayed with his father while the younger son went off and squandered his father's inheritance in wild living. And we know how the father reminded that son of the blessings of having been there all along. What was the father's had been that son's all along. One of the great mysteries of the fact that our Heavenly Father is unfairly gracious is that no matter how many receive the full wage at the end of the day, there's no less to go around for everyone. The older son, the first into the vineyard at daybreak, and you who have been in these pews your whole life receive nothing less than what you've been promised. No matter how many more show up and are blessed by the Father's graciousness. And what we receive is the greatest gift and blessing ever. Eternal life, won for us, not by our own labor, but by the work of Jesus on the cross. It should be our great joy to rejoice when others realize that this gift is for them as well.
Comparisons are worthless and futile when we realize that in the one thing that really matters, we're all in the exact same place. There is no righteousness within us worth comparing. The only thing that gives us a leg to stand on is the faith we've been graciously given, whether at the first hour or at the 11th hour. Faith in Christ who bore the sin and shame of the cross for all of us. The cross ends all comparison and gives us a joy that knows no bounds. It was unfair for God to send His Son to the cross, and to our human minds it's unfair that all who have faith receive the same reward, regardless of their labor, but thanks be to God that He is unfairly gracious to each of us. It may not seem right to call God unfair, but when His unfairness benefits us all, our good and right response is to give thanks and to praise and worship Him. Amen.
The peace of God which surpasses all understanding guard your hearts and your minds in Christ Jesus.