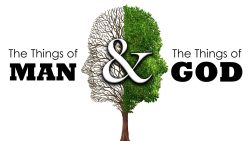 September 3, 2023
"The Things of God"
Text: Matthew 16:21-28
Grace, mercy, and peace be to you from God our Father and from our Lord and Savior, Jesus Christ.
          I think most of you are aware that I believe visitation is one of the most important aspects of the church's ministry. Of course, Word and Sacrament ministry, what we do right here on Sunday mornings and Wednesday nights, is where God's precious gifts are delivered to His people, but sitting by the bedside, in the living room, and on the porch are essential aspects of being the people of God in relationship with one another. Many of you have welcomed me into your homes, invited me into your hospital rooms, and have sat around our kitchen table, and for that I'm extremely thankful. And I hope you've felt that the time spent visiting in those places has strengthened our relationships as God's Word of comfort and hope and peace is shared.
What you may not know is that visitation often opens doors beyond the opportunity to build our relationships. Simply wearing a clerical collar into public places often invites people to strike up conversations and seek out the care they believe a clergyman might be able to provide. Of course there are some who will avoid eye contact and even sometimes walk the other way, but you might be surprised at how many want to talk. Especially in hospitals and nursing homes, where many are hurting and questioning. I've had the opportunity to talk and pray at the bedsides of complete strangers and share the Good News of Jesus with people I'd otherwise have never met. And while these opportunities provide comfort and peace and may plant the seeds that could grow into a flourishing faith, I've not had the opportunity to develop lasting relationships with any of these strangers.
But I did hear a story about a pastor who did just that. This pastor was making the rounds of a nursing home where he had a number of members that he was visiting. As he was getting ready to leave a nurse approached him and asked him to look in on the man in a particular room. She told him the man was not doing well and had asked for a pastor. As the pastor stepped into the room he found a man of about 80 who was struggling for breath, but still very alert to his surroundings. Leaning over the bed, the pastor asked the man how he could be of help. During his visit the pastor learned that the man had been baptized and confirmed in the faith, but had been removed from the rolls of the church because of his inattention to worship. His wife had died a number of years before.
As the man struggled for breath, the pastor asked him if he believed that Jesus had suffered, died on the cross, and risen for him and his sins. With tears in his eyes the man nodded "Yes." The pastor then asked if he desired forgiveness. The man nodded again and the pastor pronounced absolution to the man he had just met, causing him to profess that a great burden had been lifted from his mind and heart. Over the next few days the pastor continued to minister to the elderly man, talking to him about the things of God until Jesus took him by the hand and led him through the valley of the shadow of death.
Visitation is a part of my calling, and I do it partly because you have called me to care for your hearts and your minds, but I also do it because God desires that His people would be in relationship with each other. He's called you to this vocation also. What's different about what I'm referring to here and simply being hospitable and helpful is that as God's people He calls us to focus on the things of God and not simply the things of man. Had that pastor gone into the nursing home room and simply caught up with that man about the Brewers score and what the weather was like that day, the life changing event that happened likely would not have taken place. What He did was to talk about, and focus on, the things of God. Of course we need to talk about the Brewers and the weather, but those are not the eternally important things that God desires for us to focus on.
When Peter began to rebuke Jesus for His assertion that He would have to go to Jerusalem and suffer many things and be killed and on the third day be raised, Jesus turned to him and said, "Get behind me Satan! You are a hindrance to me. For you are not setting your mind on the things of God, but on the things of man." Peter's thoughts were only for the things of this world. For his own and his friends' self-preservation. He didn't yet fully understand the things of God as they needed to play out for the salvation of the world. And as Jesus further points out to the disciples and to us, we often don't understand the crosses that we must bear if we are to deny ourselves and follow Him.
The things of this life – the things of man – are fleeting. While gaining the whole world might bring earthly pleasure today, Jesus reminds us, "What will it profit a man if he gains the whole world and forfeits his soul?"
          I read an article this week about change in the church which said that most people fear change not because they're afraid of change, but because they're afraid it's going to backfire. I think the same thing could be said for talking about the things of God. Most people fear talking about the things of God not because they're afraid of these things, but because they're afraid it's going to backfire. We're happy to talk about the football or baseball game because we know how that conversation is going to go. We're happy to talk about the weather because we're sure that none of us knows how that's going to go. We're even happy to talk about politics, but only with people whose opinions we already know, because we know how that conversation will go. But when we begin to talk about the things of God, especially with people whose faith we're not sure of, we just don't know how the conversation is going to go.
In my previous life hiring and training sales people it was always a bit of a toss up as to who was going to be successful. More than once I hired young men who had a real aptitude for sales. One I remember in particular really enjoyed the work and loved being with people. He learned the products quickly and after a few weeks of visiting clients I met with him to see how things were going. He told me about all the calls he had made and how many people he had visited. He explained how he conducted the meetings with the clients and then lamented how few sales he had actually made. Attempting to be as encouraging as I could I complimented the young salesman on how well he was educating the people and how well he was connecting with them. When I asked him what he thought was going wrong he had no idea. Until I mentioned to him the one thing that he was missing. "You have to ask for the sale."
Being a Christian and not focusing on the things of God is like being a salesman who never asks for the sale. I remember the early days of my own sales career and the number of times I myself left a meeting without having asked for the sale because I was scared to hear the word "No." And I also know that there are times when I hesitate to talk about the things of God, settling instead to focus on the things of man, for fear of the reaction I'll get. Maybe that's your cross too. Or maybe there's some other cross you've been asked to bear. Something that doesn't seem like God would desire or allow His child to have to go through. He never promises that this life is going to be easy. In fact, He clearly says that it won't. What He does promise is that if we allow Him to, He will bear the weight of all our burdens. He took the full weight of the cross so that you wouldn't have to.
Peter's rebuke comes immediately after his great confession. Within the very same conversation. It's no coincidence that Jesus' revelation that His true followers will have a cross to bear comes in relation to that confession. Many believe that the cross we bear as Christians is the abuse and rejection we'll all face at one time or another for our own confession that Jesus is the Christ, the Son of the Living God. With that realization, don't shy away from talking about the things of God, but lean into your calling – your vocation – to share the love of Christ with those around you. Even though you're not wearing a collar, opportunities will abound every day. And you just might find that focusing on the things of God rather than the things of man brings great joy and the peace of Christ to those around you. And that whatever burden it may at times create for you will be far overshadowed by the knowledge that the saving love of Jesus is being proclaimed, as God desires for His people to do. Amen.
The peace of God which surpasses all understanding guard your hearts and your minds in Christ Jesus.