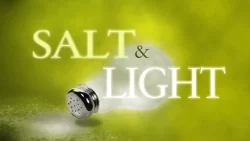 February 5, 2023
Text: Matthew 5:13-20
Grace, mercy, and peace be to you from God our Father and from our Lord and Savior, Jesus Christ.
One of the phrases heard pretty often within educational and leadership circles is "Don't tell me what to do. Show me how to do it." We can probably all relate to an experience where someone has given us verbal directions for something they want us to do and then we'll go off and either forget what we've been told or just not be able to figure it out from the amount of information we've been given. And we all probably also have experiences where we can remember, even from decades ago, how to do something because someone took the time to show us how to do it. Engaging multiple senses in the learning process almost always produces a better experience for retention of information and ability to replicate the process. Whenever I have the opportunity, I like to ask people to show me how they've done something so that if I ever find myself in the position to have to do that thing myself, I'll have a better chance of actually being able to do it. Show Me.
We even have a state that uses Show Me as their state motto. Missouri's motto is believed to have come from an 1899 speech given by Willard Duncan Vandiver. The congressman, who was speaking in Philadelphia at the time, said, "Frothy eloquence neither convinces nor satisfies me, I am from Missouri. You have to show me." Like Vandiver, the people around us need us to show them what it means to be a Christian. Not that we shouldn't tell them as well, but sometimes what we all really need is to be shown. And first, Christ must show us His Way, and Truth, and Life, so that we are then able, by word and deed, to show others.
Matthew records Jesus' words as He continues to speak in what we know as the sermon on the Mount, and we hear Him say, "Do not think that I have come to abolish the Law or the Prophets; I have not come to abolish them, but to fulfill them. For truly I say to you,
until heaven and earth pass away, not an iota, not a dot, will pass from the Law until all is accomplished." What Jesus is telling, and then showing through His life, is what the teachers of the Law and the Pharisees never come to understand. They could not be saved by what they did. The Law will not go away until that final day, and yet, the insistence on keeping the Law as a way of attempting to earn merit and favor is not what the Gospel teaches.
The teachers of the Law spent their time interpreting, and even making new laws, which Jesus clearly speaks against. And then they'd try hard to live righteously according to them. The Pharisees zealously attempted to keep the Law, and both were proud of their own righteousness. But Jesus attempts to show them, just as He wants us to understand, why attempts to keep the Law are not going to lead to salvation. Any righteousness of our own will always be tainted with sin, and therefore it will always be imperfect and fall short of the perfection that God requires. Later on in chapter 5, Matthew records Jesus' words as He tells the disciples, "You therefore must be perfect, as your heavenly father is perfect." This is what is required. Perfection. And since we can't accomplish that, anyone who relies on the Law for salvation will be sorely disappointed in the end. That's the way of the Pharisees, who were so zealous to establish their own righteousness that they ignored the fact that righteousness comes from God.
If they couldn't be saved, then who can? What the Scriptures plainly teach us is that no one is saved by his or her own righteousness. Or by the keeping of the Law. And God doesn't want anyone to be lost, but all to be saved, so He provides the way that salvation might be accomplished for us. The way that became necessary after the very first people He created fell into sin. He told us of that way immediately upon the Fall, and then showed us the Way in His very own Son, Jesus Christ. The One who put Himself under the Law so that you, and all humankind, who are also under the Law, might be saved. Jesus, the righteous One, joined all of
us who are unrighteous. And He didn't erase the Law. He didn't abolish the Law. He fulfilled it. Kept it perfectly. Establishing a perfect righteousness that He has passed along to us. A righteousness that is clearly shown to be better than that of the teachers of the Law and the Pharisees, because our own righteousness just won't do. It falls short and is tainted with sin, making us unable on our own to enter into the kingdom of heaven. We need God's perfect righteousness, which far surpasses that of anyone who has ever tried to keep the Law. And we obtain it solely through faith in Jesus. There is no other Way.
And now, since God has shown us the Way, and the Truth and the Life, in the person and work of Christ Jesus, we can now rightly ask Him, "Show me how to show Him to others." As Jesus said, He didn't come to abolish the Law, but to fulfill it. Which means that we still have the Law as our guide. Too often we think of the Law in the sense that it is constricting, as opposed to God's Law which offers us the way to fulfill the calling we have through our faith in Christ. It becomes a roadmap for us so that by our lives we might "give glory to our Father who is in heaven." The Law plays a necessary role in God's plan of salvation. It convicts us of our imperfect obedience, showing others that self-righteousness is unreliable for entrance into the kingdom of heaven. And by practicing our faith, it's validated, and it shows others the Christian life and attracts them. I can't tell you how many times I have heard people talk about others who are displaying their faith solely through their actions. Most often they'll say they just know there's something different about that person. It's the salt, and the light. And people want to know more. They want to understand what makes them different.
So Jesus tells us through these words that He desires that His people would be the salt of the earth and the light of the world. But He also shows us how to do that. He is the example of opposing the corrupting power of sin with good. He shows us how the goodness of God adds
flavor to the world, and how He is a light shining into the darkness of sin. We know that He is the Light, and yet He tells us that we are the light of the world. The only way we can do this is to allow His Light to shine through us. In mind and heart we need to first thoroughly know the true Light that gives the light of life. Only then, through our words and deeds, can we be people of the Light, doing Christlike things, that others may glorify God. Think about the children in a family who are well-behaved, obedient, and helpful and how that reflects the credit to the parents. In the same way, as children of God, how we are seen by the world reflects directly on our Father in heaven. He called us out of darkness into His marvelous light. May our words and our deeds show forth the glory of His work for us, in Christ Jesus, who suffered and died that we might live eternally.
We are truly blessed that God not only spoke, but that He acted. He promised, and then he delivered. He told us, and then he showed us. We're blessed that He sent us Jesus, but also that He's called us to be salt and light in order that we might show the world what wonderful things Christ has done for us, here and forever.
"You are the salt of the earth, but if salt has lost its taste, how shall its saltiness be restored? It is no longer good for anything except to be thrown out and trampled under people's feet.
You are the light of the world. A city set on a hill cannot be hidden. Nor do people light a lamp and put it under a basket, but on a stand, and it gives light to all in the house. In the same way, let your light shine before others, so that they may see your good works and give glory to your Father who is in heaven." Amen.
The peace of God which surpasses all understanding guard your hearts and minds in Christ Jesus.