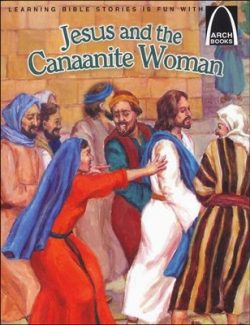 August 20, 2023
"Receptive and Able"
Text: Matthew 15:21-28
Grace, mercy and peace be to you from God our Father and from our Lord and Savior, Jesus Christ.
"And Jesus went away from there and withdrew to the district of Tyre and Sidon." Just looking to get away for a while. To withdraw from the crowds. We can all relate to that need to just relax and unwind, free from the worries and cares of life. But how often does that actually work? Something will inevitably interrupt whatever quiet you might find. For me it's the phone. My phone rings so many times each day and I would imagine that I only answer it about ¼ of the time. Because in this age of caller ID and scam blocking, I'm aware that most of the calls are not from old friends looking to catch up. They're either to sell me something or to ask for something. Sales or solicitation. Sales calls I attempt to avoid at all costs, because picking up the phone just emboldens them and verifies that there is someone at the end of that number.
Solicitation calls are a little different. Sometimes they actually might be from someone who you would like to help if you had the means. I've also been on the other end of those solicitation calls while attempting to raise money for good and worthy causes, so I can sympathize with those callers. And when you're on that end of the phone, you're really looking for two positive reactions. Because when you're being turned down over and over again, even just a little positivity is encouraging. So, the two reactions you're looking for are receptivity and ability. Unless you find both of them the call will end up like so many others. Either as a hang up or with an, "I'd like to help, but I just can't right now." Because for someone to give they must first be receptive to your cause, but also must have the means to help meet the need. In today's Gospel lesson, we have Jesus, who is both of these things for the Canaanite woman and her daughter, and also reminds us that He is the same for us.
JESUS IS BOTH RECEPTIVE TO OUR NEEDS AND FULLY ABLE TO MEET THEM.
Here in Matthew's account, we have a Canaanite woman who has obviously heard about the miracles of Jesus because she seeks Him out. This encounter is incredible for a number of reasons. The Canaanites were an idolatrous people who were living in the Promised Land and who God had told the Israelites to destroy. Even Abraham made his servant promise that he would not allow Isaac to marry a Canaanite woman. There's no love lost between these two groups. And yet, this woman approaches Jesus, not with fear or hesitation, but boldly crying out, "Have mercy on me, O Lord, Son of David." She knows who He is, and she proclaims her faith from her very first words. While also expressing that she has a need.
In fact, her pleas for mercy are unceasing. To the point that when Jesus ignores her. But she continues on until the disciples finally come to Jesus and plead with Him to send her away, because she just won't stop asking for help. Many of us in here, as parents, can certainly understand this woman's predicament. Her daughter is demon-possessed, and we have to imagine that she's sought out help everywhere she can think of. Just as we would do anything and everything to find a cure if we had a sick child, this woman is not going to give up once she has found the one Physician who can cure what ails her daughter.
There are two facts which often become the focus of a message on this passage. There's the fact that Jesus at first ignores the woman. And then there's the fact that He emphasizes the focus of His mission on the lost sheep of the house of Israel. Certainly, there's also an aspect of this passage that indicates a shifting of the focus of Jesus' ministry from the Jews to the Gentiles, but I want to focus on the grace and mercy that Jesus shows to this frantic woman, who is so concerned for the well-being of her child, and also so faithful to the One she knows is able to heal her.
As this woman kneels at the feet of Jesus, she acknowledges everything Jesus says about the purpose of His ministry, even the fact that the crumbs of what Jesus has to offer are a significant gift to a poor miserable sinner such as herself. And in that acknowledgement, Jesus recognizes true faith. A faith that's reliant on the gifts God offers through His son Jesus Christ. And the reward for her faith, is the granting of her request. "And her daughter was healed that very hour." Jesus grants to this woman just a crumb. Just a small exhibition of that which He's capable of.
As is the case with all accounts the Gospel writers convey to us, this is not simply a story for us to look back upon and marvel at. It's the story of us. It's our story. We are the Canaanite woman. We are the enemy of God in our sin and are in fact unworthy of the crumbs which fall from the master's table. As much as we don't want to admit it, or even think about it, we too are tormented by the devil, who gives us no rest as he temps us, leads us astray, and encourages us to hide our sin and cover it up, rather than laying it at the feet of Jesus.
And we, like this Canaanite woman, are all beggars. Beggars in need because we can't solve our own problems. We can't pull ourselves out of the problems we create for ourselves. We can't get rid of our own sins. We can't get to heaven by ourselves. And like the Canaanite woman we deserve no answer and certainly are not worthy of any of Jesus' gifts. We have no standing before Him, no right to claim or demand, or even ask anything from the Son of David.
And yet, we are beggars at the feet of a merciful God. Just as that Canaanite woman cried out, "Have mercy on me" because she knew she was crying to the One who would be both receptive to her needs and able to respond to them, we do the same. It's as though every day we pick up that phone and reach out, earnestly hoping that we'll find someone on the other end who is receptive to our plea for help and capable of responding to it with both mercy and power. And as long as we call out to the Lord, we'll find the One who is both of those things.
As we acknowledge that we are just like that Canaanite woman, we also need to acknowledge our role as Christ's disciples. Whenever we see the disciples in the scriptures, we need to think about what lesson they have for us. In this passage the lesson is both cautionary and instructive. The disciples are really just trying to protect Jesus; to give Him the rest He needs. But what they're really doing is trying to keep Him to themselves. "And his disciples came and begged him, saying, 'Send her away, for she is crying out after us.'" What they don't understand is that this woman of faith has as much right to share of the crumbs of grace and mercy that fall from the table of our Lord as they do. As disciples we don't hinder anyone who desires the mercy and grace Christ offers. All who are willing to fall at the feet of Jesus in repentance are welcome. All of the things that so easily divide us just don't matter. What matters is faith in the One who is receptive to our needs and able to save.
And we do have a God who is receptive to our pleas for help. No matter what the need is, He welcomes our prayers and is eager to speak to us. And not only that, but we have a God who has unending crumbs. His mercy and grace flow so abundantly through the life, death and resurrection of Jesus that there is plenty to go around. Every crumb that falls our way contains the grace and mercy of God. And every crumb heals. Every crumb, satisfies. Every crumb forgives. And every crumb saves.
Being a beggar generally isn't the most desirable position to be in. It's not an easy life. But being a beggar at the feet of Jesus means that we will always have plenty to be satisfied. Those who come before God with true faith will always be given what they need, and there will always be plenty left over for the next needy beggar, and also for those who have yet to come to the table. Come and receive and introduce others to the giver of all good gifts. He has plenty for you, and me, and all His children. Amen.
May the peace of God which passes all understanding guard our hearts and our minds in Christ Jesus. Amen.