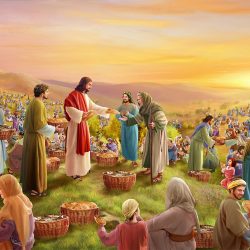 Provision and Satisfaction
August 6, 2023
"Provision and Satisfaction"
Text: Matthew 14:13-21
Grace, mercy, and peace be to you from God our Father and from our Lord and Savior, Jesus Christ.
          You've probably all heard about the K.I.S.S. principle. Nothing to do with physical affection, but it's about how to approach situations to limit their complexity. Keep It Simple (well…you know). A few years ago, I knew a pastor who did a summer sermon series using the KISS principle, only his stood for Keep It Spiritual Saints. It was a great reminder for the congregation about our tendencies, especially in a time where everything seems to be not so spiritual. And not so simple either. Because we live in a world of enormous complexity. Complexity of thought. Complexity of worldview. Complexity of opinion. But in our Gospel for today, Jesus reminds us to get back to the simple, and to the spiritual. It's what He does as He attempts to withdraw from the crowds to a desolate place. And in the end, He provides for the people their most basic and simple needs. And in providing for these simple needs that we all have we're reminded that
GOD PROVIDES FOR EVERY NEED THAT WE HAVE AND EXPECTS THAT THROUGH THIS PROVISION WE WILL BE SATISFIED.
          As we explore this familiar miracle of Jesus, we'll look specifically at how He provides for the people who were actually there at this event. But we'll also discover how Jesus continues to provide for all of His people. What's more is that we're given a perfect model of our response to Jesus provision, and that's found in the one simple word, satisfied.
As is the case with any human being, and remember, Jesus is fully human, emotions and fatigue are two very strong motivators. If we flip back in Matthew 14, we see what immediately precedes today's lesson. Jesus has just learned of the violent death of his friend and forerunner, John the Baptist. In response to this news, "He withdrew from there in a boat to a desolate place by Himself." As many of us would do in a similar situation, Jesus sought a quiet place to deal with His emotions. This desire to be alone and to process all that's going on around Him emphasizes Jesus' humanity, which is one of the primary ways in which He connects to us. He knows grief. He knows weariness. He knows temptation. And yet, He never gives in to any of it in the way we do. Truly human, yet without sin.
But in the midst of His desire to retreat and regroup, Jesus is once again mobbed by the crowds, who simply won't leave Him alone. And what's His response? It's not one of anger. But rather one of compassion. That one simple word describes how Jesus responds to anyone and everyone who's in need. Because whether they knew it or not, every one of those people who followed Jesus out into that desolate place was in great need. Their need manifested itself in the sickness that needed to be healed and the bellies that needed to be filled. But their real need, just like ours, is of a more spiritual nature. Jesus provides for the physical well-being of all of us in order to show us that He can also provide for our spiritual needs.
And so, we're reminded by the way in which this encounter plays out, that Jesus, in His earthly incarnation, is not concerned for His own benefit or desires, but rather for those who truly need what only He can provide. Jesus doesn't seek out the crowd. They seek Him. And when they do, His desire to retreat and rest becomes secondary to the needs of those on whom He has great compassion. Jesus does what He does for our benefit, not for His own.
As the day wore on, it became clear that the crowd wasn't going to leave, and we have this interesting encounter between Jesus and His disciples. They'd like for Him to send the crowds away to go and buy food for themselves, but He simply says to the disciples, "You give them something to eat." And their response is much the same as it is whenever Jesus says something cryptic to them. "We have only five loaves here and two fish." As if to say, what are you thinking? This isn't enough even to feed those in the front row. I wonder what might have happened had the disciples simply started passing out the loaves and the fish. Of course, Jesus could have multiplied them just the same, but then possibly the people might not have known how special this event was. Or more importantly, where their provision came from.
Luther notes in the meaning of the first article of the Creed that God provides for all our needs of body and soul. In the culture of abundance in which we live, sometimes it's hard to think about food and clothing and shelter as needs, because most of us have always had these things. But for those who are hungry. For those who are thirsty. For those without a roof over their heads. These things are absolutely needs. We pray for that which we want, but God provides to us that which we need. And at times the answer to those prayers comes through His people here on earth. In Hebrews we're reminded to "not fail to show love to strangers, for by doing this some have even welcomed angels without realizing it." It's a great reminder that we're told that whatever we do unto one of the least of these, we are doing it to Christ Himself.
Did the gathered crowd want bread and fish for dinner that night? I'm sure it was a great meal, but Jesus didn't provide it to them only to fill their stomachs. He provided it to them to show us all that He provides everything. It's not about the food. It's about everything He gives to us. We can't look around and not see the glory of God and His great provision in the world around us. We can't come to the Lord's Table and not realize that every time we receive His body and blood, He's multiplying Himself for us. Offering us the most precious food we'll ever receive.
"And they all ate and were satisfied." I'm not sure how many of you enjoy eating. I certainly do. Regardless, there's a point at which if you were to stop eating, you would remain somewhat hungry. And then there's the point where you realize that you've eaten too much and are overfilled. Neither of those situations is particularly satisfying. What Matthew tells us about Jesus feeding the 5,000 is that when they ate, they were all satisfied. Not too little and not too much. But just the right amount to give that feeling of being satisfied. And what's more is that Jesus knew, and He gave them exactly what they needed in order to experience this sense of satisfaction. It's the same He does us. Not necessarily what we want, and not always what we even knew we needed, but exactly the right thing and in exactly the right amount.
A couple weeks ago from Romans we heard about the provision that God gives even when we can't find the words to pray. "The Spirit helps us in our weakness. For we do not know what to pray for as we ought, but the Spirit Himself intercedes for us with groanings too deep for words." That's a wonderful example of what God provides to us in Jesus Christ. What we need and can't always find the words to express. In a world filled with complexities and complications, we're reminded that God keeps it very simple for us. Jesus was fully human, but He was also fully divine, free from all sin, and the perfect sacrifice that was necessary for our redemption. In His humanity He desired to retreat from the crowds, but His divine compassion would not allow Him to ignore the needs of His people. Just as that same compassion kept Him on a direct course to the cross. His humanity would have desired to veer from that course, but His mission was clear and He never wavered from it.
God has always provided for His people and continues to do so today. He gave His very own Son that the needs of His people would be provided for. Our response is to be satisfied with all that God provides for us. In the Feeding of the 5,000, Jesus not only provides for the needs of those who are there at that time, but provides enough that there are twelve baskets left over. In the same way, at the cross, He not only provided for those who witnessed the event and were alive at the time, but for all people of all times as well. He provides salvation for all who trust in Him. And there's always more left over to share with others. Amen.
The peace of God which surpasses all understanding guard your hearts and your minds in Christ Jesus.