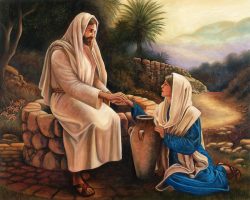 March 12, 2023
"Open Hands"
Text: John 4:5-26
Grace, mercy and peace be to you from God our Father and from our Lord and Savior, Jesus Christ.
          My prayer for each of us today is that we would be exceedingly comforted by the words the disciple John conveys to us about the nature of Jesus and His love and care for His people, even those who do not yet know Him. We're living in a world where the burdens we carry, the obstacles we face, are amplified. Struggle and hardship so often surround us. War and strife are common experiences. There's so much we could be in fear of. And yet, we're gathered here in God's house to receive the gifts He desires us to have. We hear His Word and we receive His forgiveness, even as the world around us gives us so much to believe we should be fearful of. And yet, we know we have a God who says to us, "Fear not, for I am with you." Just as the woman at the well received blessings she could not have expected when she went to draw water, we, here in this place, receive immeasurable blessings as we gather in the name of the One who provides all relief from fear. The One who gives us comfort in the midst of the uncomfortable. The One who is the source of all the life-giving blessings we receive. And when we're looking for His blessings, what better place to find them than in His house. And so today, we lean on the Source of all blessings in the midst of any uncertainty we face, and explore how God's Word leads us to the understanding that the Source is seeking us out, just as He sought and found the woman at the well.
If you want to gather water you would first have to find the source. For us that source is the faucet, the garden hose, or perhaps the water cooler. Bubbler? Is that really a thing? Or perhaps you grew up on the farm, or in the country, where your water came from a well. I recall, as a young boy, visiting my uncle in New Hampshire as he was building his house on acreage he has in the White Mountains. Very near to that same place where we climbed the back side of Mt. Washington. We'd camp outside on his land for about a week at a time as my father would help him to build the house and my brothers and I would explore the woods, never failing to find something to keep us occupied. One of my most vivid memories of those times was the well pump that was about 50 yards from the house. Before he installed an electric pump and connected the water to the house, water was retrieved by priming the pump and gathering the water in a bucket to use for washing and for drinking. The pump served our purposes as well as after a long walk in the woods on a hot day, we would simply cup our hands and catch as much water as possible before splashing it on our faces and drinking right out of our hands.
It's not the most efficient way to gather water, but open hands is an incredible posture to have when something is being offered to us. It demonstrates a desire to receive what's is being given and a willingness to attempt to hold on to it once it's ours. It's this posture that I envision the Samaritan woman at the well having after Jesus reveals to her who He is and what He has to offer to her, and to the world. But having open hands to the gifts that Christ offers us does require that we turn away from whatever closes us off to Him and turn toward the Giver of all good gifts. And in doing so we are continually reminded that
CHRIST DESIRES TO BLESS US ALL WITH LIFE-GIVING WATER AND ALSO THAT WE WOULD HAVE OPEN HANDS, READY TO RECEIVE THE GIFTS HE GIVES US.
          As we focus this morning on John's Gospel account of Jesus' interaction with the Samaritan woman at the well we pray it would be an example to us of the desire we should have for God's gifts as well as God's overwhelming desire to give us those gifts. Because we're so much like that Samaritan woman who said, "Sir, give me this water, so that I may not be thirsty or have to come here to draw water." And God is the one who said through His Son, "whoever drinks of the water that I will give him will never be thirsty again. The water that I will give him will become in him a spring of water welling up to eternal life." As much as we would probably not choose the Samaritan woman at the well as one we would prefer to be compared to, her account mirrors the life we're living.
            We, like the Samaritan woman, often find God's blessings in the most unexpected places.  We've all had times where we go about our lives with the Lord being the furthest thing from our minds. And in that going about, we experience a blessing we couldn't have anticipated. Maybe it was a pleasant interaction with someone that renewed our faith in the kindness of our neighbor. Or maybe it was an unexpected commendation or raise at work. Maybe it was the answer to a prayer long ago prayed and forgotten about. Whatever it may have been, these unexpected blessings are certainly a pleasant surprise to us, but pale in comparison to the unexpected blessing the Samaritan woman received as she met with Jesus at the well.
As is the case with so many of Jesus' interactions that are recorded for us, there's a sense here that this was a chance encounter, and yet Jesus' discourse with this woman was anything but unexpected to Jesus. The entire encounter was so perfectly laid out that it not only led the woman to an understanding of who Jesus is, but also provides for the entire church, who the woman represents, an understanding of the magnitude of the gifts Christ gives to His people. With 4 simple words, "Give me a drink," Jesus breaks down the barrier between Jew and Gentile and makes His gifts accessible to those outside the Jewish faith. Augustine says about Jesus that, "His 'drink' was to do the will of him that sent him. That was why he said, 'I thirst; give me to drink,' namely, to work faith in her and to drink of her faith and transplant her into his own body, for his body is the church."
In this request for a drink, Jesus not only opens the door to conversation with the woman, but also begins the process of helping her to understand that she's accepted by Him. She certainly couldn't have expected that as she went about the normal course of her life. She was just doing her duty by going to draw water, and in the midst of that ordinary, experienced a life changing encounter with the Lord. In the same way, our posture needs to always be one of open hands, ready to receive whatever blessing the Lord desires to provide to us, even and especially in the times when it's so unexpected. We have a Savior who is able to provide this living water for us regardless of whether He has any vessel with which to draw it from the well. Because the living water He provides doesn't come from a spring in the ground, but from Himself. Throughout their interaction, Jesus moves the woman closer and closer to an understanding of Himself and the water only He is able to supply in the same way that a masterful storyteller moves the reader from a state of obliviousness to full revelation of the entirety of the plot.
A major part of Jesus' revelation is the fact that He is aware of everything in her past. Once she's been convinced of her need for the living water that only He can provide, Jesus tells her to go and get her husband, knowing full well that she's had five husbands and that the man she is currently with is not her husband. Jesus does this not to shame or guilt her about her past, but to reinforce the reality that the sin she has committed does not disqualify her from receiving the blessing He has to offer. We too, like the Samaritan woman, have a past. And it's one that doesn't prevent us from receiving Christ's blessings. Your sins may not be the same ones as this woman's. Maybe you're not currently living with a man who's not your husband. But are you breaking the 6th commandment in another way? Are you bearing false witness against your neighbor? Putting anything in your life above God Himself? As you hear and heed God's Law, know that He is calling out to you in the same way He did for this woman. Not to shame you, but to remind you of what He expects of those who receive the living water He provides. And as a reminder that regardless of what ways you've fallen short of His expectations, His love is so great for all of us. Especially as we receive with open hands the free gift of forgiveness He offers to us all.
          Because we, like the Samaritan woman, desire, and so desperately need, the living water that Christ freely gives. If we were asked what we desire we could probably articulate the fact that we desperately need, and therefore fervently desire, the salvation, that living water, provided for us by Christ through His sacrifice on the cross. But do we go about our daily lives acknowledging that this living water is what we're in need of? More likely, like the Samaritan woman, we going about our daily lives, doing the work we're called to do. The hard work of life. This trip to the well was no time of rest and relaxation. It was work. Hard work. Made even harder by all the burdens she carried with her. We're also carrying many burdens. Burdens we're aware of and burdens buried deep within that we maybe don't even fully comprehend. It's in this state that Christ approaches us with the very same offer He made to the woman at the well. An offer to unburden us. To take from us everything that's weighing us down. When we realize who it is that's speaking to us and when He makes Himself known to us by saying, "I who speak to you am He," is when we can turn away from all our burdens. Cast them on Jesus, because He cares for us. And then we can receive with open hands the forgiveness and salvation offered for us. When we cast our burdens, our sins, our cares on Him, He takes them and exchanges them for the living water. The living water which becomes in us a spring of water welling up to eternal life.
So, as we live in this day when our burdens and cares can often be overwhelming, we're reminded that none of those burdens are too much to cast on the Lord. Care and caution are important for all of us, but fear is for those who don't trust that our dear Lord holds us each in the palm of His gracious hand, providing for us comfort and peace in whatever trials we're asked to endure.
We began by talking about the different sources where we might find water. In seeking out this precious resource and coming with the correct means to gather that resource we can provide for ourselves the hydration that is needed for this earthly body. But we have no means ourselves to provide for the living water which is hydration for our souls. Only God Himself, who needs nothing with which to draw that water, is able to provide it for us. May we, like the woman at the well, turn away from our past and with open hands receive the blessings Christ has offered to us through His selfless sacrifice. And thanks be to God that He has and will continue to provide for us all that we need for this world and the next. AMEN.
The peace of God which passes all understanding guard our hearts and our minds in Christ Jesus.