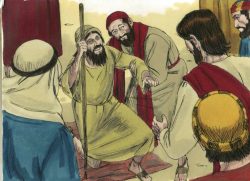 March 19, 2023
"Justice and Grace"
Text: John 9: 1-7, 13-17, 34-39
Grace, mercy, and peace be to you from God our Father and from our Lord and Savior Jesus Christ.
We applaud the fact that justice has been served when the criminal gets the proper punishment for their crime. When the thief is forced to pay restitution and when the murdered serves a life sentence in jail. Justice is done when the punishment fits the crime. When the individual is rightfully given what they're due. Today's Gospel lesson reminds us that what we receive is often NOT the result of what we've done, or what our ancestors have done. And when we think about what is truly our due, what we really deserve, we realize that by the grace of God we DO NOT receive what we deserve. Thanks be to God for that!
One of the things we do to prepare for the Lord's Supper is confess our sins and receive absolution. Those of us who received baptism as infants and have attended services regularly ever since probably can't remember the first time we heard this confession of sins. When something has been such a life-long habit, it can easily become mechanical. We can say the words on autopilot without really thinking about what we are saying. The same thing happens with the Creed and the Lord's Prayer.
This morning, we confessed our sins in preparation for the Lord's Supper. We began with these words, "O almighty God, merciful Father, I, a poor, miserable sinner, confess unto You all my sins and iniquities with which I have ever offended You and justly deserved Your temporal and eternal punishment." Think for a moment about what you said.  "I … justly deserved Your temporal and eternal punishment." Temporal punishment is punishment here in time, and saying that means that you confessed that you deserve punishment every day.  You deserve a life full of the justice due a poor, miserable sinner. Eternal punishment means that even after you leave this world and enter eternity, you deserve continuous punishment forever. It sounds severe when you think about it, but it's what you said you deserved when you confessed your sin. How thankful we can be that God graciously forgives our sins for the sake of the perfect life and sacrifice of Christ Jesus.
The old sinful nature that still struggles in us wants to deny this confession. The Old Adam constantly tries to convince us that we're not really that bad. We might make the occasional mistake from time to time, but, surely, we've not earned temporal and eternal punishment. A slap on the wrist … maybe, but eternal punishment? Surely not! In this way and others, the Old Adam battles against the confession we make. The Old Adam would have me believe that I am God … that I'm responsible for my own salvation.
One of the many things that challenges the Old Adam is a person with disabilities … a person with physical challenges … any person with severe problems.  The Old Adam would have us believe that the right word … the right thought … the right attitude would prevent all struggles in this life and the next. That means that the person with the problem has been speaking the wrong word … thinking the wrong thought … having the wrong attitude. The Old Adam wants the security of knowing how to prevent that problem. So, it seeks to determine what this person did wrong. Then it can avoid that behavior secure in the belief this cannot happen to me.
Jesus' disciples demonstrated the Old Adam in action when they encountered that blind man. They asked him, "Rabbi, who sinned, this man or his parents, that he was born blind?" Not only were they cruel in assuming some gross sin on the part of the man or his parents, but they were also being arrogant. Since they could see, they assumed they were better than the blind man. They failed to understand that they could see only by virtue of the grace and mercy of God who gave them functioning eyes, ears, and all their senses..
Jesus answered, "It was not that this man sinned, or his parents, but that the works of God might be displayed in him." First of all, it's impossible to trace a specific condition to a specific sin. The sin in this world means that we all deserve to be blind. We all deserve a life that is way worse than the life we actually lead. Instead of asking why bad things happen to good people, we should ask why we sinners receive so many blessings from day to day.
The second thing that Jesus taught was that God often turns the tragedies of this life and uses them to accomplish His purposes. The blindness of this man would ultimately reveal the works of God. Jesus proceeded to give sight to this man in a way that reminds us of the creation narrative: Just as the Lord God formed the man of dust from the ground, so Jesus used the dust of the ground. He spit on the ground and made mud with the saliva. Then he anointed the man's eyes with the mud and said to him, "Go, wash in the pool of Siloam" (which means Sent). So he went and washed and came back seeing."
You'd think that giving sight to a blind man would be cause for celebration. You'd think this man's family would declare a feast. You'd think that the whole community would give thanks to God for His many blessings. That's what you'd think. But that's not what happens.
Instead of celebration, this healing led to great controversy and division in the community. His neighbors refused to believe that he'd been healed.  The Pharisees launch an investigation. The healing caused suspicion and fear.  And in the end, we learn that blindness of the heart is a lot more dangerous than blindness of the eyes.
The reason this healing was so controversial is the day it happened. "Now it was a Sabbath day when Jesus made the mud and opened his eyes." The Pharisees had hundreds of traditions, and according to their traditions, making mud from saliva and dust was work. This meant that Jesus had violated the Sabbath by working on the holy day. According to their traditions, this simply meant that Jesus was a sinner. On the other hand, God obviously listened to Jesus and gave sight to the blind man. This would seem to indicate that Jesus was not a sinner for God wouldn't be listening to a sinner. This contradiction really bothered the Pharisees. They either had to resolve the contradiction or they had to change their theology.
Here is where we see the Holy Spirit at work in the life of the man who was born blind. The Pharisees will verbally abuse him, but this only serves to strengthen his witness.  He gains boldness even as the Pharisees apply the pressure. At the start of the interrogation, the man's answers are short. When the Pharisees again asked him how he had received his sight, he responds, "He put mud on my eyes, and I washed, and I see." But the Pharisess don't back down. The formerly blind man doesn't know it, but he's about to have another eye-opening experience. You can almost see the wheels turning inside his head as the interrogation continues. And he eventually grows bold enough to contradict them. "Whether he is a sinner I do not know. One thing I do know, that though I was blind, now I see." Finally, at the end of the grilling, h's now preaching to the Pharisees.  "Why, this is an amazing thing! You do not know where he comes from, and yet he opened my eyes. We know that God does not listen to sinners, but if anyone is a worshiper of God and does his will, God listens to him. Never since the world began has it been heard that anyone opened the eyes of a man born blind. If this man were not from God, he could do nothing."
Everyone who was there that day was watching a faith grow and mature right before their eyes. Ultimately, the Pharisees realize they've lost control and expel this man from the synagogue. The man who had been born blind now understood that the Pharisees had no answers for him. Their faith in a collection of man-made traditions couldn't save him. His only hope was in the great prophet who had given him sight. It was then that this greatest of all prophets found him. Jesus heard that they had cast him out, and having found him he said, "Do you believe in the Son of Man?" He answered, "And who is he, sir, that I may believe in him?" Jesus said to him, "You have seen him, and it is he who is speaking to you." He said, "Lord, I believe," and he worshiped him. The man's faith was expressed in word and action as he confessed with his mouth and fell to his knees to worship the One who brought light to both his eyes and his soul.
Sin, our sin, has broken creation and we deserve nothing but punishment here in time and forever in eternity. Never the less, for the sake of the perfect life and the sacrificial death of God's beloved Son Jesus Christ, God reduces the hardships of this life. He also uses the hardships that do enter our lives to build us up as the Holy Spirit inspired the Apostle Paul to write, "We rejoice in our sufferings, knowing that suffering produces endurance, 4and endurance produces character, and character produces hope, and hope does not put us to shame, because God's love has been poured into our hearts through the Holy Spirit who has been given to us."
The man who was born blind received much more than his sight from the Savior.  The Holy Spirit worked faith in his heart. He came to understand that he was a sinner and could not save himself. He learned that Jesus wasn't just a prophet, but that he was the Lord of Lords, and even more. He was the fulfillment of all the prophets. When Christ died on the cross, rose from the dead, and showed himself to his disciples, this man would have been able to see with his newly given sight what the Lord had done. But even more importantly, he saw through the eyes of faith that his sins died with Jesus Christ and remained in the grave when he rose. He saw that Jesus would never leave him and that when he died, he would immediately see Jesus again face to face.
God often allows disabilities and difficulties into our lives to help us understand that we're all born full of sin and spiritually blind. It's when God allows persecution into our lives that the Holy Spirit works to direct us toward the blessings we've been given. It's when the Holy Spirit moves us to admit our sinful, spiritually blind condition that Jesus Christ gives us spiritual sight. And it's when Christ reveals himself to us in Word and Sacrament that the Holy Spirit creates and sustains faith in us. And in all this, we realize that we have been given grace instead of justice. We don't receive what we deserve, because Christ took it all upon Himself. In His infinite mercy, what we receive is the grace, the undeserved love, that is only possible because of the One who gives us all sight. May we keep our eyes firmly fixed on Jesus. Amen.
The peace of God that surpasses all understanding guard our hearts and our minds in Christ Jesus.