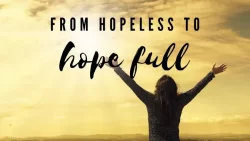 November 12, 2023
Hope for the Hopeless
Text: 1 Thessalonians 4:13-18
Grace, mercy, and peace be to you from God our Father and from our Lord and Savior, Jesus Christ.
          As we continue our march toward the end of the church year, our readings turn toward end of life matters, death, and the afterlife. I heard on the radio this week someone refer to these weeks as "too early to trim the tree, but too late to go trick-or-treating." It wasn't a Christian message, but it does describe how we sometimes think about this time of year. A little bit of in between time. But as we follow the lectionary and the traditions of the church year calendar, we have a focus during this time not on the earthly things that are behind or ahead, but on our eternal future. The promise and the hope that we have in Christ. Paul writes to the Thessalonians about this very thing when he says, "But we do not want you to be uninformed, brothers, about those who are asleep, that you may not grieve as others do who have no hope."
Hope. The very word seems problematic in the world we live in. As hard as it is just to keep going, we seem to have lost touch with what actually keeps us going as Christians. We've learned to look to the future with dread, not knowing when disaster will strike next. For those alive when JFK was assassinated you might have found it hard to think of anything that could affect the country on such a scale. But wars, and disasters, and hurricanes, and floods kept on coming. 9/11 became another benchmark by which we continue to gauge the impact of violence and its affect on our lives. And the seemingly never-ending struggle with disaster after disaster is ongoing. Covid brought the whole world to a standstill from which we're still recovering. And even as we sit here today, there's no telling what corner of the world will be embroiled in violence, war, and disaster next.
No wonder, then, that Christians, too, get caught up in the myriad of activities we call living, but in the end find ourselves in the fretful, fitful empty search for meaning in a world that seems to have gone out of control. All too often, that search leads no farther than the shopping mall, entertainment venues, and all manner of other endeavors in which we seek to find hope. We have hope, but our hope is in all the wrong things. It's just like St. Paul wrote to the Corinthians: "If in Christ we have hope in this life only, we are of all people most to be pitied."
Though we may forget it; though we may get caught up in the hopelessness of this world, we Christians do in fact hope in the right thing. We hope in Christ, and yet we are not to be pitied, because we have hoped in Christ not for this life only.
Our hope is fixed on Christ for this life and the next. While he supplies our every need in this life, our greatest hope is in His provision for our future life with Him. Paul makes it clear what the reason for this hope is when he says, "For since we believe that Jesus died and rose again, even so, through Jesus, God will bring with Him those who have fallen asleep." It's a promise that He will awaken all who have fallen asleep in Christ to eternal life, and not only that, but join all the living faithful on that Last Day with Himself and those who have gone before.
Like many people today, the Thessalonians didn't know how to think or talk about death and what happens after death. So, Paul offers a practical and pastoral response to the situation. Many had died since the resurrection of Jesus, and others aren't sure what to believe about where those people were or what would happen to them. There was a belief that only those alive at the return of Christ would be saved. So, naturally they feared their friends and relatives who were already dead had forfeited any share in the coming glory. For this reason the Thessalonian Christians were going around grieving like their pagan neighbors, who in fact had no reason for hope. So Paul corrects their errors in thinking in order to comfort them with the truth. He wants them to learn appropriate Christian grief instead of the wild and hopeless mourning and desperation that was typical of pagan funerals. Paul essentially says to them that there can be no Christian comfort without Christian faith.
The contrast he draws is between Christian hope and pagan hopelessness. It's a message that's just as important in our world today. The finality of death for one who has no faith is a sorrow unrelieved by any hope of a future reunion with loved ones. Or any future at all. This is not the reality for a Christian and Paul needs to make that clear. So, he summarizes the Gospel and the promise of resurrection and reunion, not only with friends and loved ones, but even more importantly with Christ Himself. This is why we have hope in the face of death.
We know that death is the consequence of sin and that death robs us of the company of those we love. Therefore, it brings sorrow and grief to everyone. Even Christians are right to have a measure of grief for those we love. But we have hope even as we grieve because we know our loss is only temporary. In meeting with the family of a faithful man who had been called to his eternal rest recently, his widow said to me multiple times how, even in her grief, she was actually a little bit jealous of the eternal joy her husband now experiences. Even in the midst of sorrow, hope reigns.
Therefore, we too have hope on the Day of Judgment. John reminds us that all who live in faith have already passed from death to life. For people of faith that day will be one of great joy. But our reading from Amos this morning reminds us that those who are not prepared for the Day of Judgement shouldn't be looking forward to it. "Woe to you who desire the day of the Lord! Why would you have the day of the Lord? It is darkness and not light." It will be darkness for those who are not prepared. But for those who are, it's what we hope for. It's where our hope lies. The resurrection promised and won through Christ's death and resurrection. When Christ will descend from heaven in power and raise up all the dead and where we will be reunited with all believers who have died. This is the hope for those who would otherwise be hopeless. This is why "we do not grieve as those who have no hope."
THE COMING OF THE LORD GIVES HOPE TO THE HOPELESS.
          And if that's the case, which it is, then we can find comfort, even in life's trials because we know the last chapter of this world's history. We know that present suffering will be outweighed by future glory. We have the promise, even here and now, of the Lord's own presence in his Church. In the Gospel read and preached. And by His sacraments properly administered. Through these the Lord encourages us to be hopeful, and to spread that same hope to those around us. This is what keeps us going as Christians—and not just through the motions of everyday life. Hope for real living, real life, this one and the next.
The peace of God which surpasses all understanding guard your hearts and your minds in Christ Jesus.